Every season, you want to follow new fashions, and it is good that you shop because you stimulate the economy and business. But you also have to encourage ourselves to recycle clothes since it is another good alternative to preserve the environment. Six million tonnes of clothing are thrown away in Europe every year, of which only 25 percent are recycled, 2700 liters of water are needed to make a 250-gram cotton T-shirt. It's therefore important to reuse clothes and buy ecological fabrics. But surely the question you ask yourself is how to recycle old clothes. Let's check out some savvy ways to reuse old clothes!
#1. Spice Up Your T-Shirts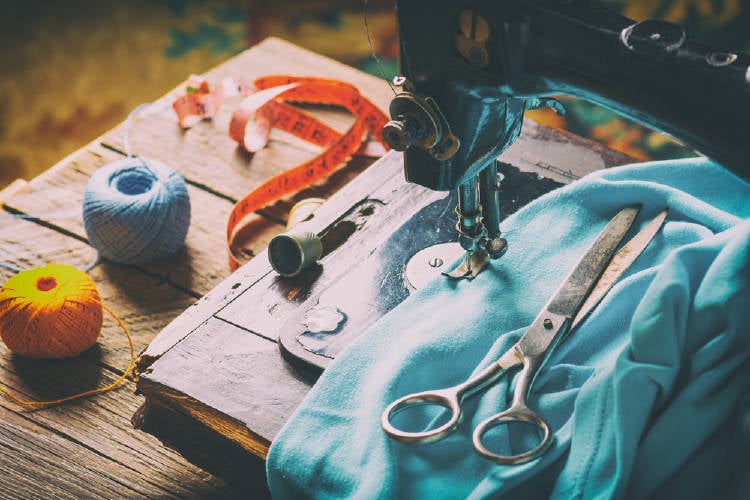 You are probably just bored with some of your clothes and want to give them a more modern touch. Do you want to know how? It is very simple! You just need scissors and a little imagination. Fold a basic shirt in half but over the longest part of the garment. Then mark the drawing you are going to make and prepare to cut out. The truth is that you can innovate with hundreds of spectacular designs like this one that we show you.
#2. Make Chews For Your Dog By Reusing Old Towels, Socks, And Other Clothes
Even older garments can offer a second utility before being thrown away. Reusing old towels, socks, or jeans to make teethers for your pets is clear proof of this. In this case, you will always try to use cotton garments as raw material. 
#3. Make Baby Bibs From Used Clothing
Bibs are handy to prevent your babies from staining their clothes. They are garments that are designed to get dirty and wash continuously. If you have fabrics prepared for humidity, such as those used to make technical clothing, raincoats, or swimsuits, you can easily recycle them into long-suffering bibs. 
#4. Recycle The Sleeves Of A Sweater To Make Fingerless Gloves
One of the easiest clothing recycling projects is to cut the sleeves from an old sweater or shirt to make fingerless mittens or gloves. An ideal complement to be able to use your mobile phone in winter without your hands freezing. 
#5. Make A Case For Your Mobile Phone Or Sunglasses
Another good idea to recycle a shirt, sweater, or coat sleeves is to use them to make a protective cover for your mobile phone or shades. This way, you will avoid being rub against other objects when you carry them in the bag. 
#6. Use The Fabric Of Clothing That You Do Not Use To Upholster Chairs And Other Furniture
Using the fabric of your old clothes to upholster your furniture, you will be able to extend the life of the fabrics and add a touch of color to your home. 
#7. Using Denim To Make A Tool Holder Apron
If you like to do DIY projects beyond sewing, a tool holder apron may be handy. The back of some old jeans can provide us with a resistant fabric that you can use as raw material. 
#8. Make Some Slippers From An Old Sweater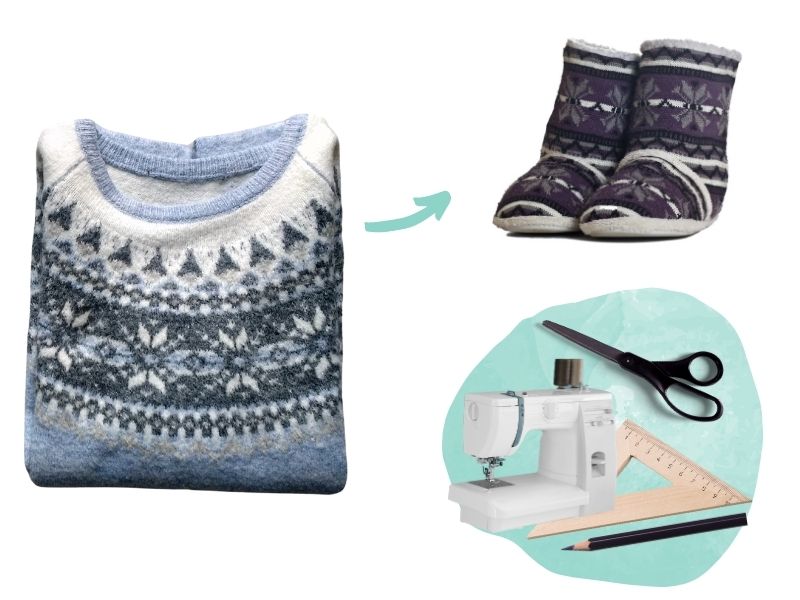 If you have a thick wool sweater, you can make some warm slippers to walk around the house. Searching the net a bit, you will find many websites that offer us free patterns that you can use as a model to make them. 
#9. Make A Wall Organizer Out Of Pockets From Old Jeans
Our old jeans' back pockets can help us keep order in your home if you use them to make organizers, which you can hang on the wall or inside your closets. 
#10. Make Cleaning Cloths From Cotton Garments
Perhaps the easiest way to reuse your old clothes is to recycle them as cleaning cloths. You must always use fabrics made with natural fibers such as cotton since synthetic fibers can scratch glass and other materials.
What do you think of this topic? Have you already recycled any garment? Check out the first part of this article to learn more savvy ways to reuse your old clothes!