Who hasn't had one or more used clothes in the closet that are still there, even if you never use them? A little for being fond of it, a little for feeling guilty for putting it only once… It sure sounds familiar! Getting rid of used clothing is not easy, especially if the only alternative is to throw it away. In this post, you want to help you get those clothes that you no longer use out of the closet and give them a second chance. If with that gesture you can make more than one person happy, what are you waiting for?
#1.

Make A Top From A T-Shirt, Shirt, Or Sweater
Applying the previous concept to your t-shirts, shirts, or sweaters can also cut them to reuse them as perfect tops for the hottest days. 
#2.

Recycle An Old Dress Into A Skirt
Indeed sometimes, you will have discarded a dress because it was beginning to look old at the top, but some part of it was still perfect. With a couple of cuts and a few stitches, you can turn your old dresses into new skirts.  
#3.

Use A Man's Shirt To Make A Girl's Dress
A men's shirt with a worn or torn area can be the perfect candidate to become a children's dress. As they are very different sizes, you will have plenty of fabric to elaborate modifications and add ornaments, pockets, and other accessories. 
#4.

Make Cushions With Garments That You No Longer Use
The fabric of the clothes you no longer use is ideal for transforming it into other garments and other textile objects, such as fantastic cushions. You can use the most colorful to make the cushion covers and those older or a little uglier fabrics to use as fillers. 
#5.

Toys And Stuffed Animals For The Little Ones Made From Recycled Clothes
If you have some basic sewing knowledge, you can unleash your creativity to create toys and stuffed animals from the clothes you no longer use. So you can use even the smallest remnants. 
#6.

Make A Cloth Bag From T-Shirts, Shirts, Or Dresses
The best-preserved parts of your shirts, T-shirts, and dresses can be used as material for making cloth shopping bags or bags to store bread.
#7.

Use Scraps Of Old Clothes To Personalize Other Clothes
Maybe you have a dress, shirt, or garment that you love its texture, color, or pattern. If you do not want to discard it completely, you can always use a remnant of this garment to customize another that you do wear. You can do it by adding sewing patterns, adding pockets, bows, ornaments, etc. 
#8.

Make A Quilt Or Patchwork Blanket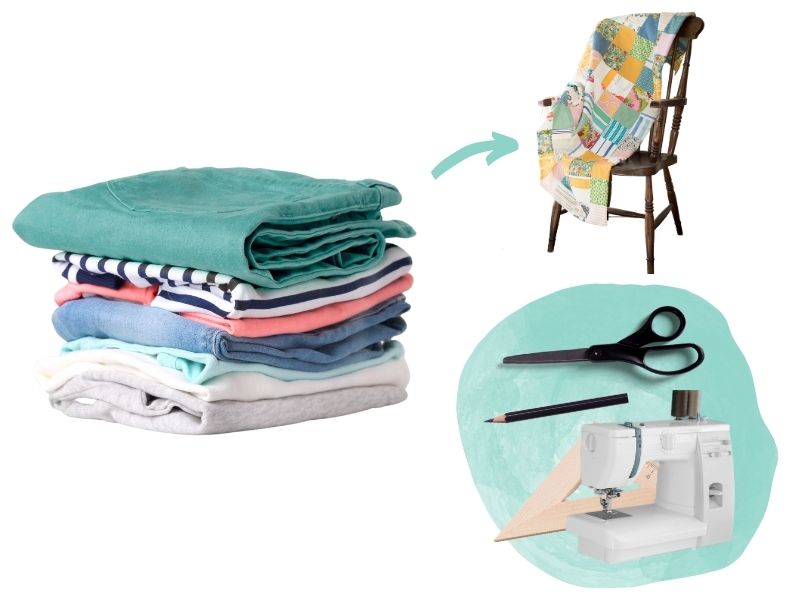 If you like to sew, patchwork can be an excellent way to have a good time protecting the environment. You can combine scraps taken from different clothes and fabrics and make perfect blankets and quilts for winter. 
#9.

Use Umbrella Cloth To Make A Waterproof Apron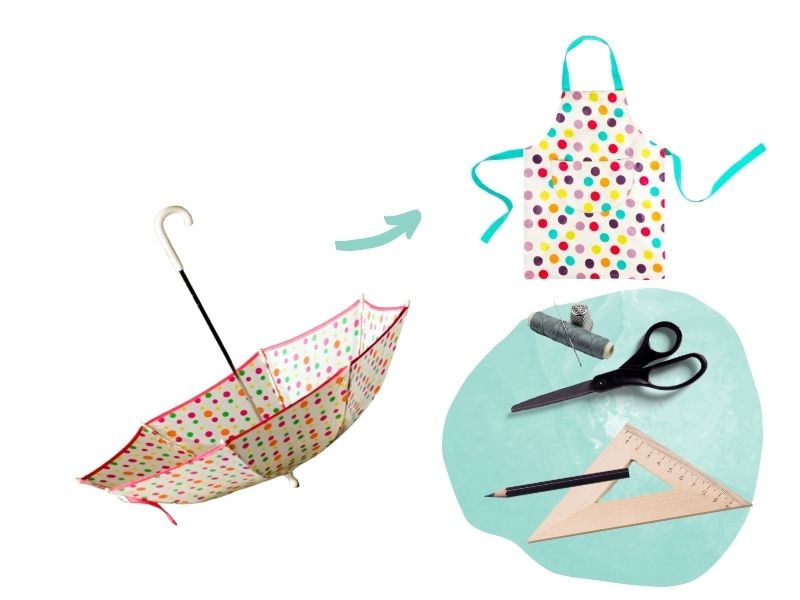 When an umbrella breaks down, and you can no longer use it to protect yourself from the rain, the most common is that it is because one or more rods have been broken. However, the fabric tends to remain in good condition, and being waterproof, it is ideal for making an apron for painting or use in the kitchen. 
#10.

Reuse Used Clothing Fabric To Make A Pet Bed
Our best friends also deserve a good rest from time to time. Your old bedding can be perfect for getting the raw material you need to make a pet mattress. 
Want to learn more whip-smart ways to recycle old clothes? Check out the second part of this article here!