Hey there, eco-conscious folks! If you're passionate about sustainable development and taking steps to reduce waste, you've probably considered starting a compost pile. Composting is not only great for the environment, but it's also a fantastic way to enrich your garden's soil. So, let's dive into what you should put in your composter for optimal results.
The Building Blocks of Compost
Composting is essentially a process of converting organic materials into nutrient-rich, dark, crumbly soil conditioner. To create successful compost, you need the right mix of ingredients. Let's break it down:
Greens and Browns
The magic combination in composting is the balance between "greens" and "browns."
Greens: These are nitrogen-rich materials like kitchen scraps, coffee grounds, and fresh yard waste. They provide protein for the microorganisms that break down your compost.
Browns: These are carbon-rich materials like dried leaves, straw, and newspaper. Browns provide energy for those microorganisms.
Air and Water
For the decomposition process to happen efficiently, microorganisms need both air and water. Ensure that your compost pile is well-aerated and maintains the consistency of a damp sponge. Turning your compost occasionally helps mix the materials and introduce oxygen.
What to Put In
Now that we've covered the basics let's talk about what specific items you can toss into your compost bin.
Kitchen Scraps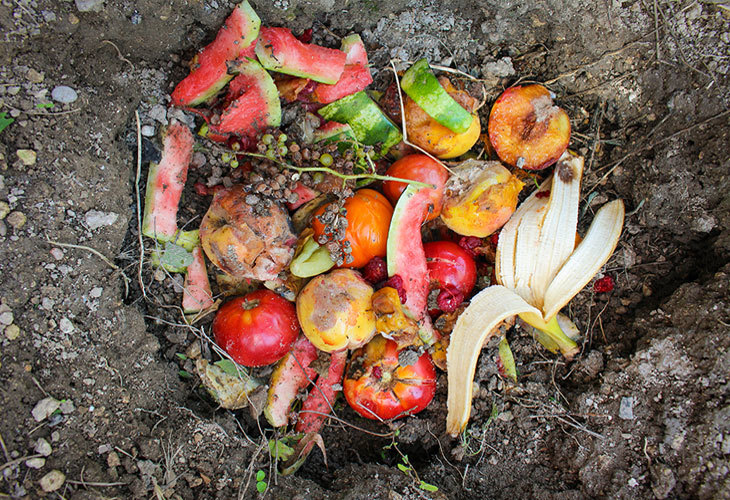 Fruit and Vegetable Peels: Don't toss those carrot peels or apple cores. They're excellent compost material.
Coffee Grounds: Used coffee grounds are a rich source of nitrogen. Learn more about recycling coffee grounds in compost.
Eggshells: Crushed eggshells add calcium to your compost.
Yard Waste
Grass Clippings: After mowing your lawn, those grass clippings can go right into the compost.
Leaves: Dried leaves provide essential carbon.
Weeds (without seeds): Be cautious with this one. Weeds can be composted, but make sure they haven't gone to seed, or you'll be nurturing new weeds in your compost. Read about best practices for composting weeds.
Paper and Cardboard
Newspaper: Shred it before adding it to your compost.
Cardboard: Cardboard breaks down more slowly, so cut it into smaller pieces or soak it before composting.
Wood and Sawdust
Wood Chips and Sawdust: These can be composted in moderation, but they're high in carbon, so balance them with nitrogen-rich materials.
Natural Fibers
Cotton and Wool: Old cotton and wool clothing, as long as they're natural and not blended with synthetic fibers, can be composted.
Stale Bread and Pasta
Bread and Pasta: Stale or moldy bread and pasta can also find a new purpose in your compost bin.
Natural Materials
Hair and Fur: Whether it's pet hair or human hair, it's compostable.
Wooden Toothpicks and Matches: These small wooden items are suitable for composting.
Small Yard Debris
Twigs and Small Branches: Chop them into small pieces to help with decomposition.
Manure
Animal Manure: If you have access to well-aged animal manure (not from carnivores), it can be a valuable addition to your compost.
What to Avoid
While many items can be composted, some should be kept out of your compost bin:
Meat and Dairy: These can attract pests and create odors.
Oily or Greasy Foods: Fats and oils can slow down the composting process.
Diseased Plants: If your plants have diseases, it's best not to compost them to avoid spreading the disease.
Pet Waste: Pet waste may contain harmful pathogens.
Synthetic Materials: Plastics, rubber, and anything synthetic should never be composted.
Tips for Successful Composting
To make your composting efforts even more successful, keep these tips in mind:
Size Matters: Chop or shred materials into smaller pieces. Smaller particles decompose faster.
Layer It: Alternate between layers of greens and browns to maintain that essential balance.
Stay Moist but Not Soggy: Keep your compost pile as moist as a wrung-out sponge. If it gets too wet, add more browns; if too dry, add more greens.
Aerate Regularly: Turn your compost pile every few weeks to introduce oxygen.
Patience Is a Virtue: Composting takes time. Depending on various factors, you can expect finished compost in a few months to a year.
Use Finished Compost: Once your compost is dark, crumbly, and earthy-smelling, it's ready to be used to enrich your garden soil.
Closing Thoughts
Composting is a fantastic way to reduce waste, enrich your garden, and contribute to sustainable development. By knowing what to put in your composter and following a few simple guidelines, you can turn your kitchen and yard waste into nutrient-rich compost that will benefit both your plants and the environment. Happy composting! 🌱