This post is a continuation of Part 1 on COMPOSTING: SIMPLE AND NATURAL WAY TO SAVE OUR PLANET. Lately, we have gone through
– COMPOSTING IN PRACTICE
– HOW TO COMPOST?
We will now cover:
– CHOOSING THE APPROPRIATE COMPOSTERS
– WHAT TO COMPOST?
– WHAT IS VERMICOMPOSTING?
CHOOSING THE APPROPRIATE COMPOSTERS
To help you choose the right composter, here are a few useful questions:
– How much space do I have?
– Is the appearance of the composter important?
– What is my budget?
– Are there any municipal bylaws that govern the use or size of composters?
– Does my city or a local organization subsidize the purchase of composters or provide composting training?
There are many models, some very elegant! Most hardware stores and garden centers carry them. But why not have one made of wood by a social economy enterprise or a local craftsman? It's also not very complicated to make your composter.
If you have a large plot of land, you can compost "in a pile": in a remote corner, pile the waste. Make piles and turn them regularly to activate fermentation. The natural watering and the large surface area (oxygenation) will be your advantages.
The essential characteristics of the composter
A cover to protect the compost from rain and snow and control the compost's moisture content.
– Holes or openings to promote air circulation
– A means of removing the final product, usually a hatch at the bottom of the composter
WHAT TO COMPOST?
Two types of residues to be mixed:
– Wet, rich in nitrogen (also called green matter)
– Dry, carbon-rich (also called brown matter)
To obtain an optimal maturation of the compost, mix about 1/3 wet material for 2/3 dry material.
Wet materials

Wet waste contains water, which is very useful in the process, but on its own, it settles and suffocates, generating juice spills and unpleasant odors.
– Fruit and vegetable peelings and leftovers
– Green garden waste: wilted flowers, pruning residues, mowing residues, weeds (without ripe seeds), etc.
Dry matter
Rather carbonaceous waste composts very slowly if left alone.
– Tea, herbal tea, and coffee grounds bags (with filter)
– Leftover bread, rice, pasta, legumes
– Nutshells
– Crushed eggshells (contain mineral elements and facilitate aeration)
– Dried tree leaves (they decompose faster if they are shredded)
– Dry grass
– Old potting soil
– Straw, hay, sawdust, twigs,
– Newsprint paper
– Animal hair and hair
Materials to avoid
– Meat, fish, shellfish, and bones
– Dairy products
– Fats and oils
– Plastic
– Metals
– Animal excrement and litter
– Rhubarb leaves
– Seeded or crawling weeds
– Diseased plants or foliage
– Wood ash
– Lime (lime)
– Barbecue briquettes
– Contents of the vacuum bag
– Dryer Lint
– Materials contaminated with pesticides or hazardous materials (e.g., treated wood)
WHAT IS VERMICOMPOSTING?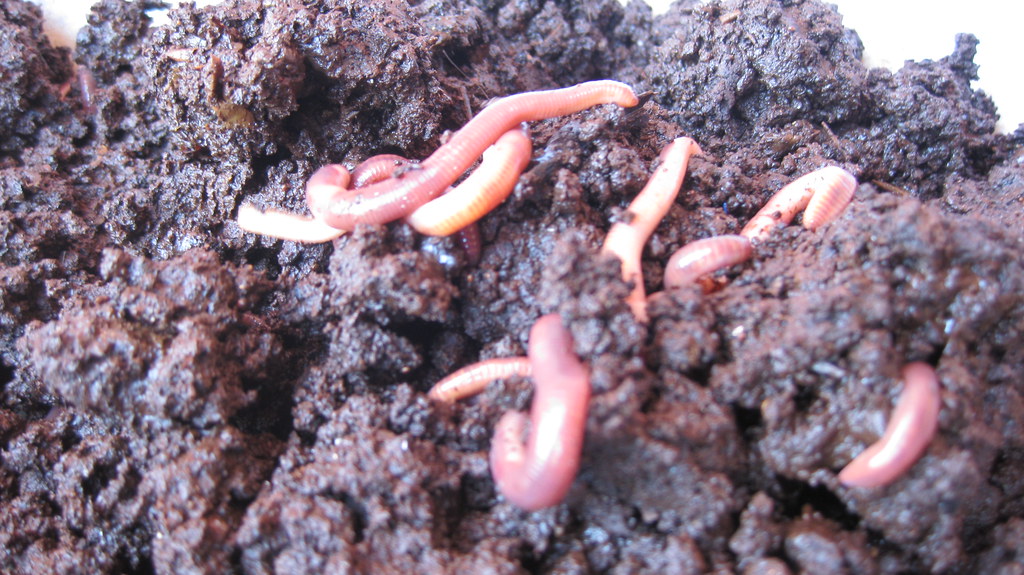 Vermicomposting is the solution for people who don't own land to set up a composter or don't want to use their composters during the winter. This type of composting is also very popular with children!
This method involves making compost using red worms – a different kind of earthworm from the worms found in the garden – available at various locations. These worms consume and digest a phenomenal amount of waste, quickly producing rich compost.
It's easy to make a vermicomposter. You can set it up outdoors, but you must provide an indoor space for the cold season as the worms would not survive.
The rest of the topic (below) will continue in part 3:
– WHAT IS HERBICYCLING?
– THE COMPOST IS READY!
– And the final point will cover TIPS FOR COMPOSTING
Stay posted, and don't forget to comment and share!