From California to the United Arab Emirates, these projects show us the way to carbon neutrality in architecture. Fires, melting ice, floods, tornadoes… We know it all too well- and Earth Day reminded us of it last week: committing to the ecological transition is more necessary than ever. Every sector of society is concerned, as is the world of architecture, which is beginning to take measure of the climate emergency, as shown by these 6 innovative structures by major names in the field.
Combining cutting-edge aesthetics and environmental ethics, these "zero-emission" structures have the advantage of being energy-efficient and using and/or producing enough green energy to be self-sufficient. From Singapore to Copenhagen, they are, in fact, laying the foundations for the architecture of the future. Here's a look at some of the most beautiful contemporary buildings, recently inaugurated or under construction.
1. CopenHill (Copenhagen, Denmark)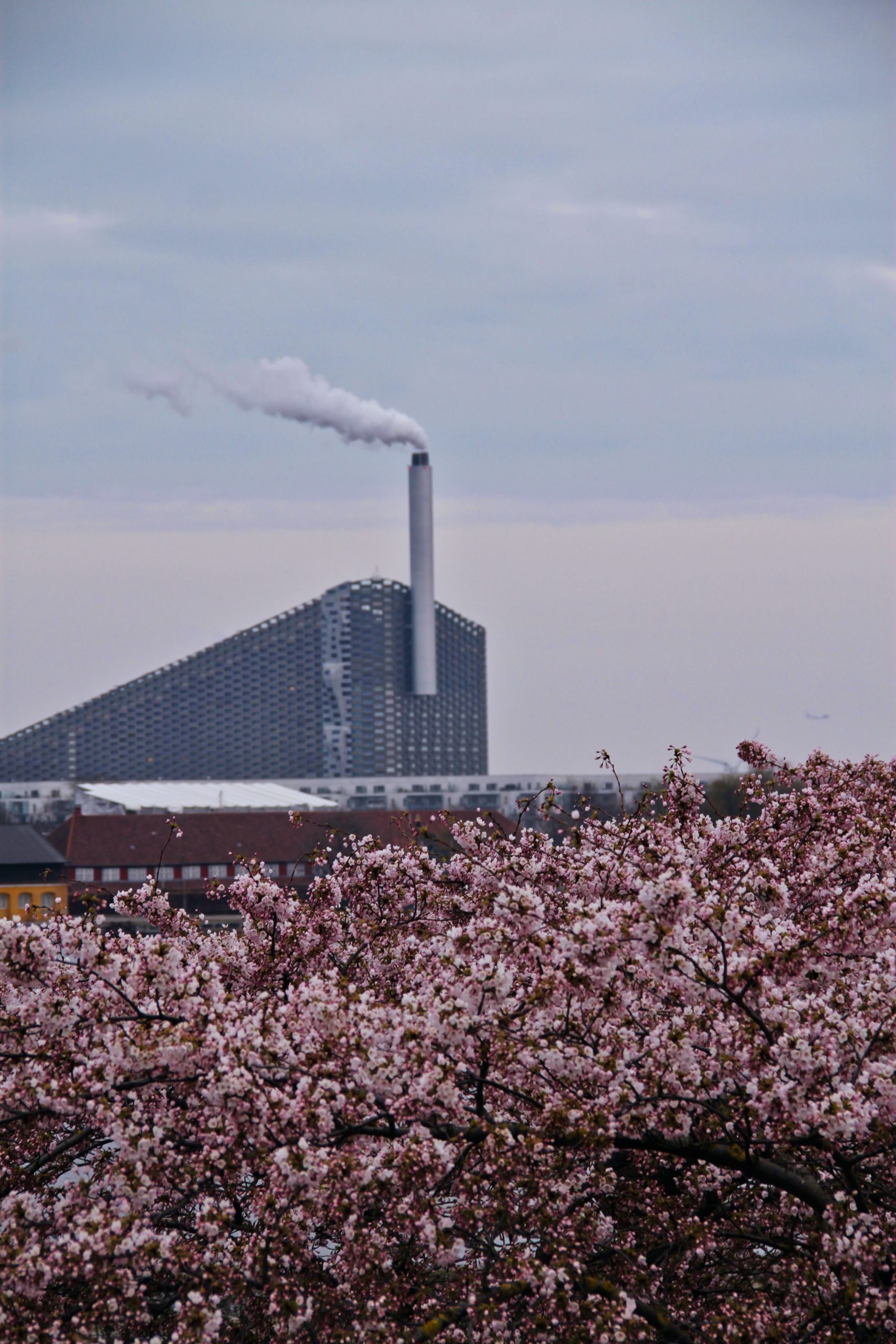 The result of a collaboration between several very prestigious firms (including Bjarke Ingels Group, SLA, AKT, Lüchinger+Meyer, MOE, and Rambøll), CopenHill or "Amager's Hill" is a new kind of waste incinerator. Topped with dry ski slopes, a hiking trail, and a climbing wall, the 41,000-square-meter building primarily processes about 440,000 tons of waste per year and provides low-carbon heat and power to nearly 600,000 people in Denmark. Opening in 2019 in an industrial area in Copenhagen, CopenHill is so far one of the cleanest waste incinerators in the world: its stack emits no carbon dioxide.
2. Marcel Hotel (New Haven, Connecticut)
While most Brutalist buildings date back to the 1950s, 1960s, and 1970s, this architectural movement continues to seduce and inspire. The Marcel Hotel is proof of this. Soon to be inaugurated (on May 12 this year), it is located in a concrete tower designed in 1970 by the father of Brutalism: Marcel Breuer. At the time, it was the headquarters of the Armstrong Rubber Company, a company that specialized in rubber.
But shortly after the departure of this company in the late 1980s, the building remained unoccupied for several years. It began to collapse and was then partially demolished. A sad fate for such original architecture, so in 2020, a local developer and architect, Bruce Redman Becker, scrambled to give the structure a second life.
He bought it and decided to turn it into a hotel as a tribute to its architect. With 165 rooms, the sustainable hotel now has nine suites, an American restaurant and bar, a library lounge, and a 650-square-foot meeting/meeting space. Leed certified (a green certification in the United States) is also known as a "passive" home, designed with energy efficiency in mind.
3. La Jolla Commons (San Diego, California)
Designed by Paul Danna- one of AECOM's principal architects- this 13-story, 28,080-square-foot building is the only "zero-carbon" building in La Jolla, an upscale neighborhood in San Diego California. With an exterior envelope composed primarily of glass, it features double-glazed windows for significant energy savings and a fuel cell system that produces more electricity than the building consumes. A true marvel of sustainable architecture, La Jolla Commons also features a floor air distribution system (improving air quality) and an extensive recycled water system used to cool and irrigate the tower.
4. BEEAH Group Headquarters (Sharjah, United Arab Emirates)
This futuristic 2,787-square-meter structure is both the first sustainable project by Zaha Hadid Architects (ZHA) and the first zero-energy building of the BEEAH Group, an international holding company. Its sustainability is ensured by its construction materials (mainly recycled), but also and above all by a powerful photovoltaic system, which produces enough energy to meet the building's energy needs in summer.
Designed by Iraqi-British architect Zaha Hadid (who passed away in 2016) and led by architect Sara Sheikh Akbari, the project is inspired by the desert landscape in which the building is set. Slightly curved, the roofs resemble windswept dunes. A feat, considering the extremely high temperatures during the hottest months and the need to air-condition the place. Sublime.
5. National University of Singapore
The SDE4 building (the School of Design and Environment at the National University of Singapore) is the first zero-energy structure built in the country. Designed by Serie Architects and Multiply Architects, SDE4 has been described by its architects as "a prototype of sustainable architecture."
At nearly 2,800 square meters spread over six floors, the building is intended to become an example to follow in Singapore and embody the country's commitment to promoting sustainability and supporting education. Combining energy efficiency, elegance, and functionality, SDE4 is a true architectural nugget in the middle of the lush jungle. It features a plaza, outdoor spaces, workshops, research spaces, a café, and a library.
6. Atlassian Tower (Sydney, Australia)
The software company Atlassian has called on the New York firm SHoP Architects and the Australian agency BVN to design its new offices in Sydney. The tower is expected to open at 183 meters high, have 40 floors in 2025, and enrich the city's iconic skyline. Not only will it be a visual feat and earn the title of "world's tallest hybrid wood building," but it will also be powered 100% by renewable energy and produce no greenhouse gases.
Sound off in the comments section below and tell us what you want to read next and if you want to read more about green buildings.