Do you want to furnish your bedroom in a sustainable way? This is a great choice. More and more people are choosing to live sustainably. So, what does a sustainable adjustment look like, and what do you need to look out for? Here are some tips to help you design a sustainable bedroom!
Sustainable Bedroom Furniture
You probably immediately think of beds and wardrobes when you think of bedroom decor. This is because these pieces of furniture are, after all, the most important ones in the room. Moreover, they form part of furniture that can be used for a long time, so they can be called sustainable. But did you know that you can also choose to have a sustainable bedroom by looking critically at your bedroom furniture?
You'll sleep more comfortably if you know that the wood used in your eco-friendly bed has been given the FSC quality label. This means that the forest will not be unnecessarily packed to make the bed. Choose natural materials and fabrics for your bedroom as much as possible and check if they have quality markings as well.
Look Critically at Your Wardrobe
Take a critical look at your wardrobe. How many clothes do you have in your closet right now? How much of it do you actually wear? How about the use of materials in your clothes? For example, you may want to choose clothes made of bamboo instead of cotton. This is because bamboo is a more eco-friendly material. Moreover, the quality is super durable and comfortable to wear.
Before shopping for sustainable clothing, it is essential to find out about your current collection. Items you no longer wear can be given away or sold to other people. In this way, you can breathe new life into the clothes you no longer wear. It also helps to reduce the impact on the environment.
Choose Sustainable Bedding
Another key to achieving a sustainable bedroom is to buy sustainable duvet covers. You can do an excellent job by choosing sustainable organic cotton duvet covers. Organic cotton uses very little water and no chemicals in its production.
Choose a Minimalist Bedroom
If your bedroom is overflowing with stuff, it can be stressful. That's why it's a good idea to choose a minimalist bedroom. Just keep the bare necessities. A minimalist bedroom is not only eco-friendly, but it also gives you peace in your mind and helps you sleep well. So, instead of filling up your bedroom with stuff, choose a few beautiful, quality items that will make you happy.
Second-hand Furniture
Are you on a tight budget? Then choose used furniture! This is very eco-friendly and sustainable. You will avoid the environmental impact of intensive production processes, and you will have less stuff to throw away. Moreover, you will be left with savings. So, there are only benefits!
If you visit a thrift store, you can find many great items for your bedroom. Think about cabinets, lamps, chests of drawers, etc., to put next to your bed. Of course, you can also find a lot of second-hand items on second-hand websites and flea markets.
Sleep on an Ecological Mattress
In the bedroom, good sleep is central. The bed and mattress play an important role in this. Always choose a sustainable bed with an environmentally friendly mattress. Many mattresses are made of synthetic materials and chemicals. This is not good for the environment or your health. That is why it is better to choose a sustainable mattress made of natural materials.
Turn Down the Heating
If your bedroom is well insulated, you can often turn down the heating or turn it off altogether. This way, you can save a lot of money on your winter heating bills, and it is also environmentally friendly!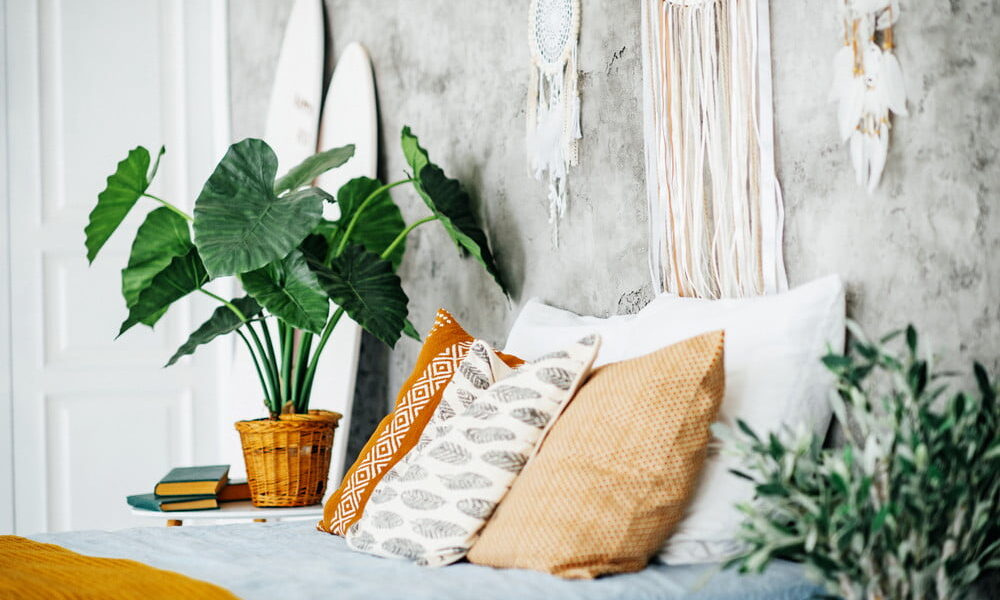 Do you have any other tips? Share it with us in the comments below!