The greenest choice you can make is undoubtedly to stop using disposables. It's better to avoid using disposable plates, glasses, and cutlery and limit them to those occasions when you can't do otherwise.
For instance, using durable plates, glasses instead of disposable ones and washing them in the eco mode to minimize water and energy consumption is a wiser option.
But when disposable is inevitable, what is the best choice for the environment? Giving a specific answer is not easy because the data concerning the environmental impact such as water consumption, soil, ecotoxicity, climate change, etc., different items have can be conflicting. However, one of the most eco-friendly solutions is to choose compostable tableware that can be found in the following materials:
Bamboo – Bamboo is a fast-growing material, only 3-5 years old, compared to other conifers that might take 10-20 years. Nonetheless, bamboo plates and cutlery are quite fragile, leading to more waste than other types. If you're opting for this material, select organic bamboo tableware from sustainable crops and reuse it as much as possible.
Wood- It is biodegradable and compostable. Go for those made of recycled wood. Wooden disposable cutlery can be used several times, so avoid throwing them away after the first use.
Potato – Yes! Dishes and bowls can be made from potato paste obtained from industrial potato processing waste. They cannot be reused, but they are biodegradable and become compostable within a few weeks. They can then be used for composting at home as well.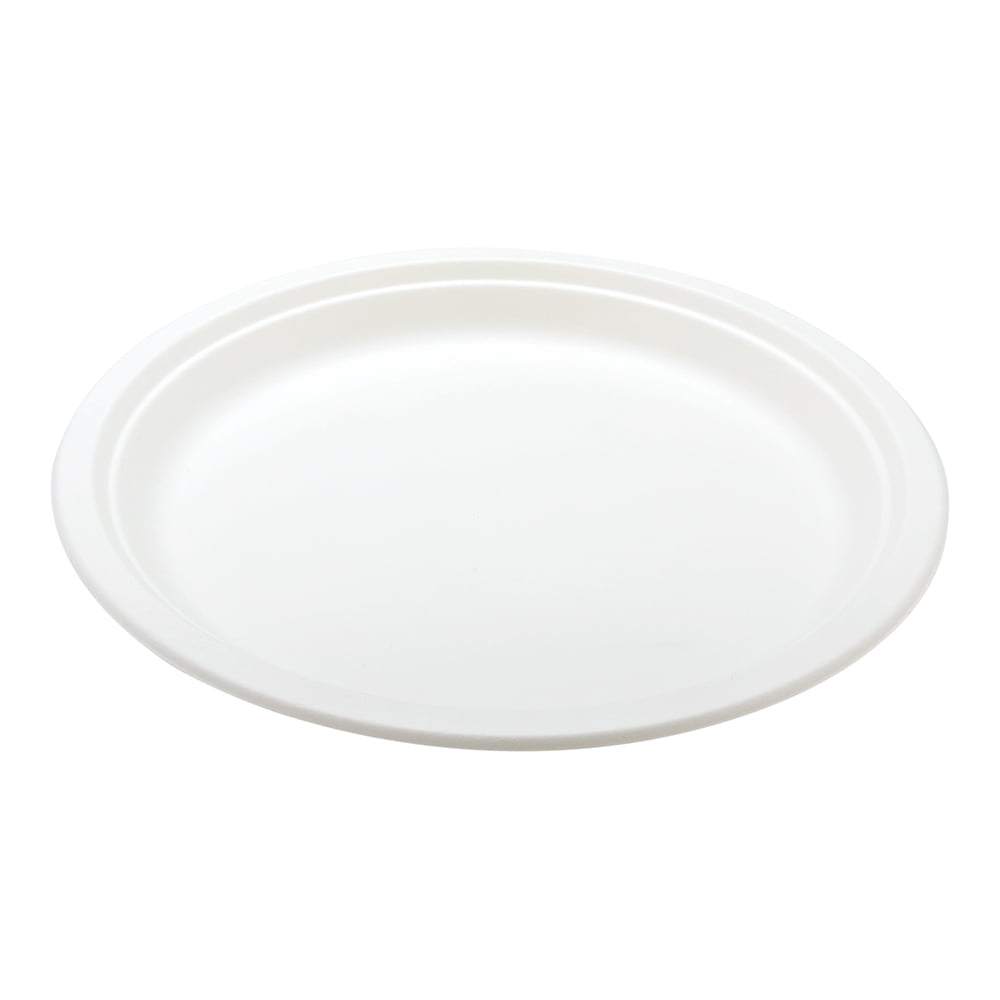 Palm leaves – These are obtained by processing and drying palm leaves and are easily compostable. Mixed plant fibers are usually a mixture of bamboo and processing waste of other plant fibers. Look for them with organic certification.
Compared to other options such as paper, plastic, cellulose, and others, it is impossible to rank all materials involved according to their environmental impact. Still, we've classified them based on their contribution to climate change.
Polyethylene (PE) laminated carton – This is a carton board suitable for food contact, bonded to a thin layer of polyethylene by lamination.
Polypropylene (PP) – It is centrifuged (a technique used to separate particles based on their size, shape, density, etc.) after cleaning, dried, and stabilized with additives before being extruded into pellets.
Polystyrene (PS) – polymer obtained by polymerization of styrene, an aromatic hydrocarbon.
Polylactic acid (PLA) – polymer obtained from plants such as corn, wheat or beets, sugar cane, and rich in natural sugar (dextrose).
Cellulose pulp – Cellulose pulp is obtained from wood by various methods, starting from the trunk or processing waste. The three main pulp production chains are the sulfate cycle (about 80%), the sulfite cycle, and the semi-chemical cycle.
Pulp contributes the least to climate change but is better than PP, PS, and PLA in water and soil consumption. In contrast, the pulp is better than polylactic acid (PLA) because of its ecotoxicity in the marine environment.
Disposable plastic waste accounts for 49% of pollution problems, but eliminating plastic is not enough to improve it. It is essential to correct bad habits and dispose of plastic waste properly so that it can be recycled and reused to the maximum extent possible without ending up in the sea, where it would become dangerous for the marine ecosystem and the food chain to which we belong.
When disposal is unavoidable in some cases, such as events involving large numbers of people or when it is impossible to wash the dishes, try to at least minimize consumption through these good practices:
Choose food and products that do not require containers or cutlery and can be easily eaten with hands.
Ensure that each guest can easily recognize his glass and perhaps the plate and write a symbol or initials on it. In this way, they won't be using more than one and lead to more waste.
Reuse plates, glasses, and cutlery whenever possible; even "disposable" items can be washed and reused several times, especially those made of bamboo and wood.
Differentiate between the various types of plates, cutlery, and glasses after use, remove food debris, and dispose of them as directed.
What are your thoughts about disposables? Share it with us in the comments below!